Regular price
$78.00 USD
Sale price
$39.99 USD
Unit price
per
Sale
Pending
Zachary Goldman, Private Investigator, is flawed with a capital F.
Shattered by the tragedies of his own life, he will somehow still manage to pick himself up and dig just a little bit deeper than anyone else to find the vital clues.
Maybe being broken makes it easier for others who have faced tragedy to trust him. Walk with Zachary as he solves cases that will stretch his abilities to the limit.
A case is only unsolvable as long as it remains unsolved.
This set includes:
She Wore Mourning
His Hands Were Quiet
She Was Dying Anyway
He was walking alone
They Thought he was Safe
He was not there
Her Work was Everything
She told a Lie
He Never Forgot
She was at Risk
He Drowned in Memory
Their Walls Were Empty
They Came for Him
⭐️⭐️⭐️⭐️⭐️ Zachary Goldman has become one of my favorite fictional characters. He is so flawed and troubled and loyal and hardworking and, and...I want to be Zach when I grow up!
⭐️⭐️⭐️⭐️⭐️ The writing is skillful, with a wonderfully complex plot and well-developed characters. Highly recommended!
Looking for a gritty PI series without foul language and gore? Award-winning and USA Today Bestselling Author P.D. Workman brings you stories that delve into some of the darkest parts of society but leave you feeling good in the end
Even with his own life in shambles, Zachary Goldman is still the one you want on the case.
Add Zachary to your bookshelf today.
What Are Accessibility Packs?
How can I get Early Access?
Share
View full details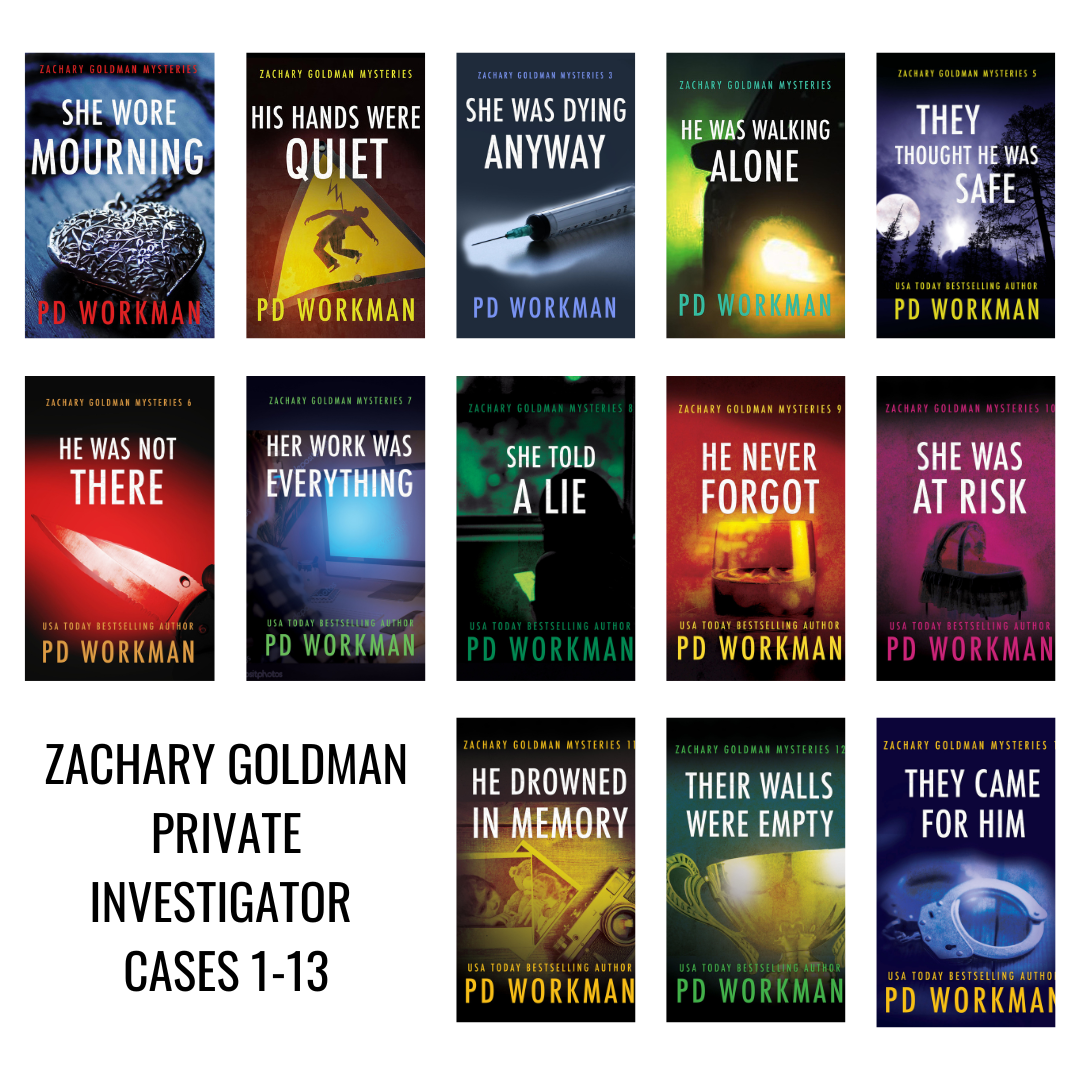 Accessibility Packs
Accessibility Packs are not yet available for every book. 
If available, an Accessibility Pack contains three files:

An eBook copy 
A pdf copy in OpenDyslexia font with other accessibility features
An autonarrated (text to speech) audiobook in mp3 format

ACCESSIBILITY FEATURES OF EBOOK (VARIES BY DEVICE):
Choose your typeface
Change the font size
Set your line spacing
Light, dark, or sepia themes
ACCESSIBILITY FEATURES OF PDF
OpenDyslexic font is designed to be more readable for those with dyslexia
Rag right—not fully justified—to eliminate gaps between words
Paragraphs not indented, separated by extra space
No hyphenation
AUTO-NARRATED AUDIOBOOKS
Audiobooks allow readers to listen to a book rather than or simultaneously with reading the eBook or PDF file. They are also helpful if you are someone who needs to move around while learning.

Standard audiobooks are expensive to produce. There is nothing like a voice actor narrating a book. He can add nuance and humour and many other benefits to the audiobook. I still want to produce more human narrated audiobooks. However, in order to bring more of my catalog to you in audio form, I have used text-to-speech, computer-narration technology. This allows me to reach more readers who need assistance with reading. While auto-narration is improving, these audiobooks do sound robotic and do not contain the nuance of human voice narration. Some readers will find this too distracting, but for others, it is just the tool they need to help them enjoy more books.
Early Access
Early Access is only available through monthly subscription tiers 4 and higher. By supporting me at a premium level, you can get each release delivered to your inbox before it is released to the public. Check out the
subscriptions page
for support levels.