Regular price
$23.99 USD
Sale price
$11.99 USD
Unit price
per
Sale
Pending
If you love mysteries and armchair travel, let Award-winning and Bestselling Author P.D. Workman take you to her favourite Calgary parks with Métis detective Margie Patenaude as she investigates murders in parks. Readers will get a sense of Canada while enjoying a fast-paced read, with a beautiful landscape that is as much a character as the suspects.
You get these six books:
1. Out With the Sunset
2. Long Climb to the Top
3. Dark Water Under the Bridge
4. Immersed in the View
5. Skimming Over the Lake
6. Hazard of the Hills

⭐️⭐️⭐️⭐️⭐️ This is another well-written, briskly-paced mystery featuring great characters, lots of interesting glimpses into Canada's Indigenous culture, and a satisfying resolution all wrapped up in delightful quick-read police procedural by an author who could make a description of drying paint sound fascinating.

These short mysteries are just right for those days when you could use a break from your busy life.

Take a walk in a Calgary park with Parks Pat.
What Are Accessibility Packs?
How can I get Early Access?
Shipping & Returns

All sales are final.

If you have accidentally purchased the same ebook twice, please contact me and we will work it out with a refund or store credit.

Physical products which have not yet been fulfilled can be cancelled, but once they have been shipped to you, they may not be returned.
Share
View full details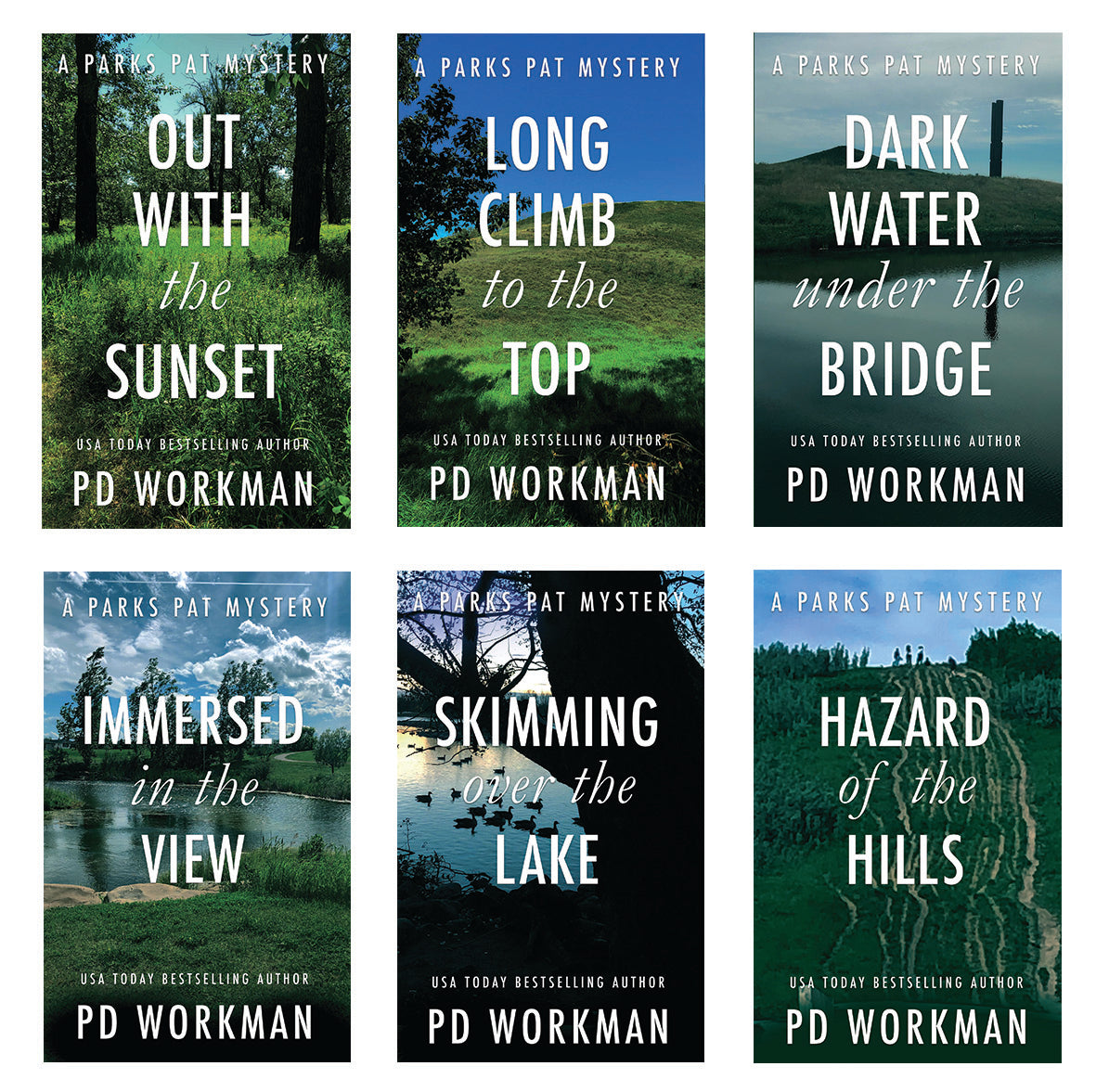 Accessibility Packs
Accessibility Packs are not yet available for every book. 
If available, an Accessibility Pack contains three files:

An eBook copy 
A pdf copy in OpenDyslexia font with other accessibility features
An autonarrated (text to speech) audiobook in mp3 format

ACCESSIBILITY FEATURES OF EBOOK (VARIES BY DEVICE):
Choose your typeface
Change the font size
Set your line spacing
Light, dark, or sepia themes
ACCESSIBILITY FEATURES OF PDF
OpenDyslexic font is designed to be more readable for those with dyslexia
Rag right—not fully justified—to eliminate gaps between words
Paragraphs not indented, separated by extra space
No hyphenation
AUTO-NARRATED AUDIOBOOKS
Audiobooks allow readers to listen to a book rather than or simultaneously with reading the eBook or PDF file. They are also helpful if you are someone who needs to move around while learning.

Standard audiobooks are expensive to produce. There is nothing like a voice actor narrating a book. He can add nuance and humour and many other benefits to the audiobook. I still want to produce more human narrated audiobooks. However, in order to bring more of my catalog to you in audio form, I have used text-to-speech, computer-narration technology. This allows me to reach more readers who need assistance with reading. While auto-narration is improving, these audiobooks do sound robotic and do not contain the nuance of human voice narration. Some readers will find this too distracting, but for others, it is just the tool they need to help them enjoy more books.
Early Access
Early Access is only available through monthly subscription tiers 4 and higher. By supporting me at a premium level, you can get each release delivered to your inbox before it is released to the public. Check out the
subscriptions page
for support levels.
P.D. (Pamela) Workman is a USA Today Bestselling author, winner of several awards from Library Services for Youth in Custody and the InD'tale Magazine's Crowned Heart award, and has published over 100 mystery/suspense/thriller and young adult books.
Workman loves writing about the underdog. She has been praised for her realistic details, deep characterization, and sensitive handling of the serious social issues that appear in her stories, from light cozy mysteries to darker, grittier young adult and mystery/suspense books.
P. D. Workman does not shy from probing the deep psychological scars of childhood trauma, mental illness, and addiction. Also characteristic of this author, these extremely sensitive issues are explored with extensive empathy, described with incredible clarity, and portrayed with profound insight.
—Kim, Goodreads reviewer